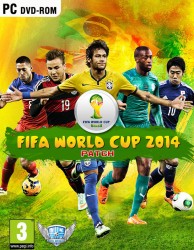 FIFA World Cup 2014 Patch For FIFA 14
After many weeks of hard work we are proud to present you the most awaited mod of the season, the FIFA World Cup 2014 Patch for FIFA 14 PC! FIFA PC fans all over the world will now have the chance to feel the World Cup atmosphere in their own FIFA 14 game. You can pick one of the 207 licensed national teams and take it through the full World Cup qualifiers to the 2014 World Cup Final on
Estádio do Maracanã
. For all patch features, screens and download links please check down bellow:
FEATURES
207 National teams that you can use in friendly or custom tournament mode.
Road To The World Cup Tournament:
Full UEFA Qualifying
Full Conmebol Qualifying
Concacaf Qualifying – 1st qualification rd is excluded, you start in the 2nd rd of qualifying.
AFC Qualifying – Starts at the 3rd rd of qualifying
OFC Qualifying – Starts at Final group Stage of qualifying
CAF Qualifying – Starts at 3rd rd which is the 10 team Playoffs
ALL Playoffs included
FINAL 32 World Cup Tournament
2015 AFC Asian Cup – Includes Full Qualification tournament
2016 Copa Centenario – Includes Full Caribbean and Copa Centroamericana which are qualifying tournaments for this cup
New Menu Graphics
New Intro
Licensed Kits For all 207 National Teams
Classic Kits for England, Italy, Germany, Netherlands, Portugal, Spain, Mexico, USA, Argentina, Brazil & Uruguay
Real Kit Numbers for all 32 World Cup Final Tournament teams + For other National Teams (Sweden, Romania, etc)
Almost 500 New Faces + 250 Real Tattoos (Face List)
New Boots
Specific Adboards for all tournaments including city specific for WC stadiums.
Tournament specific stadium graphics for Copa Centenario and Asian Cup
Adidas World Cup Brazuca Ball Pack (Normal + Finale Versions)
Real Referees + Minifaces
New World Cup Wipes
New Ball Boy Textures
New Bench Player Textures
New Cameraman Textures
New Global Manager Textures
New Photographer Textures
New Steward Textures
New Cameras
Station Tool with many graphics available for fast switch like:
New Scoreboards & Popups (Realistic 2014 World Cup Scoreboard & Popups)
New Turfs
New Kit Wrinkels
26 New Stadiums:
All 12 World Cup 2014 Stadiums (Brazil)
Estádio da Luz (Portugal)
Home Depot Center (USA)
Stade de Suisse (Switzerland)
Narodowy Warsaw (Poland)
Olympiyskiy Kiev (Ukraine)
Hampden Park (Scotland)
Friends Arena (Sweden)
Parken Stdium (Denmark)
Estadio José Amalfitani (Argentina)
Nacional de Chile (Chile)
Olímpico Atahualpa (Ecuador)
Estadio Centenario (Uruguay)
Olimpico de la UCV (Venezuela)
Turk Telekom Arena (Turkey)
Patch available in the following languages: English, Russian, French, Portuguese, Spanish, German, Dutch, Italian, French & Polish
NOTES
The patch is compatible ONLY with the retail version of FIFA 14 PC!
You can install the patch over your FIFA 14 game without causing any issues! The patch doesn't interact with your main FIFA 14 files and database thanks to the Station Tool!
The AFC, CAF, and OFC qualifying is shortened due to the 133 team limit EA has on tournaments in FIFA 14.
UEFA qualifying Group I console code is not in FIFA 14 to exclude the last place teams from the points calculation.
Patch compatible with F.I.P.14!
You MUST read Instructions file in order to make this mod work!

Instalação:
1. Faça o download e extrair arquivos para o seu PC. 2. Vá a pasta extraída chamado "FI World Cup 2014 patch" 3. Vá para a pasta extraída "Microsoft Text To Speech". 4. Clique duas vezes e arquivo run "01_msttsL" e "02_spchapi" no "Microsoft Text To Speech" pasta. 5. Instalar "FI World Cup patch 2014.exe", certifique-se instalar para a pasta principal "FIFA 14", isso deve acontecer por padrão, mas verifique antes de instalar. 6. Instalar "Modo Copa de 2014 Iniciar Station.exe" para a pasta principal FIFA 14, isso deve acontecer por padrão, mas verifique apenas no caso. 7. Comece o jogo a partir do ícone "Estação Iniciar" no seu desktop, este trará origin ou você pode iniciar a origin antes de clicar no ícone. 8. Jogue Instruções Ferramenta Station: 1. Você pode mudar de "Copa do Mundo Road To" para "32 Finalistas" enquanto estiver no menu principal, você não precisa reiniciar o jogo para os torneios de mudar. 2. Desligue sempre popups antes de executar FIFA, você não pode mudar enquanto o jogo está sendo executado.
DOWNLOAD
UPDATE 1
- Fix for Start Station Tool Problem
- Fix for crash at Messi's Start Screen
*Note: Avast users may receive false malware warnings! In that case disable Avast for 10 minutes and install the update!
http://q.gs/7NRnO
UPDATE 2http://q.gs/7Nwjstags
futebol, globo esporte, globo, auto esporte, soccer, football, jogador, esporte interativo, espn, fox sports, sky sports, sky, pro evolution soccer, fifa soccer